Farm-Chef-Table with Moore Brothers Beef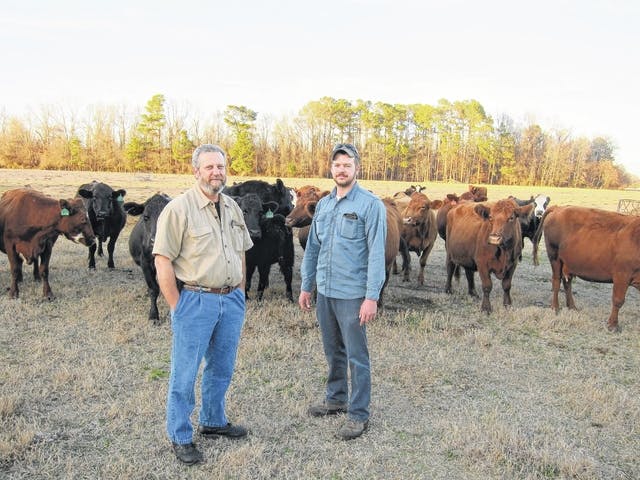 When we say "Farm-Chef-Table" we're talking about the relationship we've built with NC farmers, and bringing their quality products to your plate. We're proud to showcase the region's bounty knowing that it's North Carolina's farmland that really gives life to our menu. Food and community go hand-in-hand, which is why we're proud to feature Moore Brothers Beef on our menu every night. Learn more about their incredible story from the following profile, written by The Robesonian.
----------------
Originally published on The Robesonian by Scott Bigelow - contributing writer, January 21, 2017
Eddie Moore calls to his herd of Angus cows. "Who loves you?" he hollers. In unison, they bellow in reply.
Eddie Moore knows each of his cows. The cows and their calves each have a tag in one ear with a number that ends up on packages of Moore Brothers beef. Raised naturally on a farm that has been in the family since 1891, Moore Brothers beef is known for tenderness and flavor. The Moore Brothers, Eddie and Luther, ship beef to restaurants and retailers in eastern North and South Carolina from their farm in the Prospect community of Robeson County.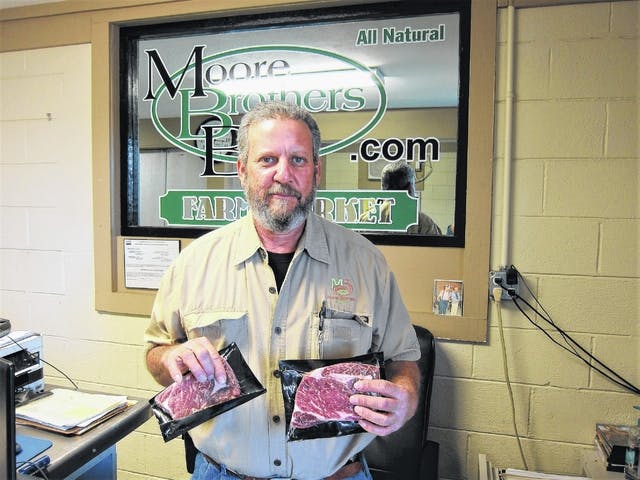 Their story began like many other farms in this county — with tobacco. Tobacco was a good living for a long time, Eddie Moore said, until it ran out.
"When the tobacco-side played out in 1999, the beef-side came in," Eddie Moore said. "We had been raising cows as a hobby. Friends seemed to like it."
"It's a challenge. Our goal is simple: to raise beef that tastes as good as possible. I think we've got the best quality beef right now that we've ever had."
From a modest start, Moore Brothers currently distributes its product in Raleigh, Wilmington, Pinehurst-Southern Pines and Myrtle Beach, S.C. In Robeson County, it is available at Carolina Surf and Turf in Lumberton, via CSA subscription and at their retail outlet next to the Prospect Volunteer Fire Department. Eddie Moore did his homework. He took his plan to raise and package premium beef to NC State's College of Agriculture, which supports local food production along with the North Carolina Department of Agriculture and the Cooperative Extension Service through the Got to Be NC; Goodness Grows in North Carolina program.
"One of the economists told me Robeson County is not our market, the middle of nowhere," he said. "The way I look at it is we're in the middle of everywhere, a hundred miles from the population centers of the Carolinas."
The Moore Brothers philosophy sounds simple, but the execution is not. From birthing calves to the store shelf, it is a departure from traditional, industrial beef production in the United States.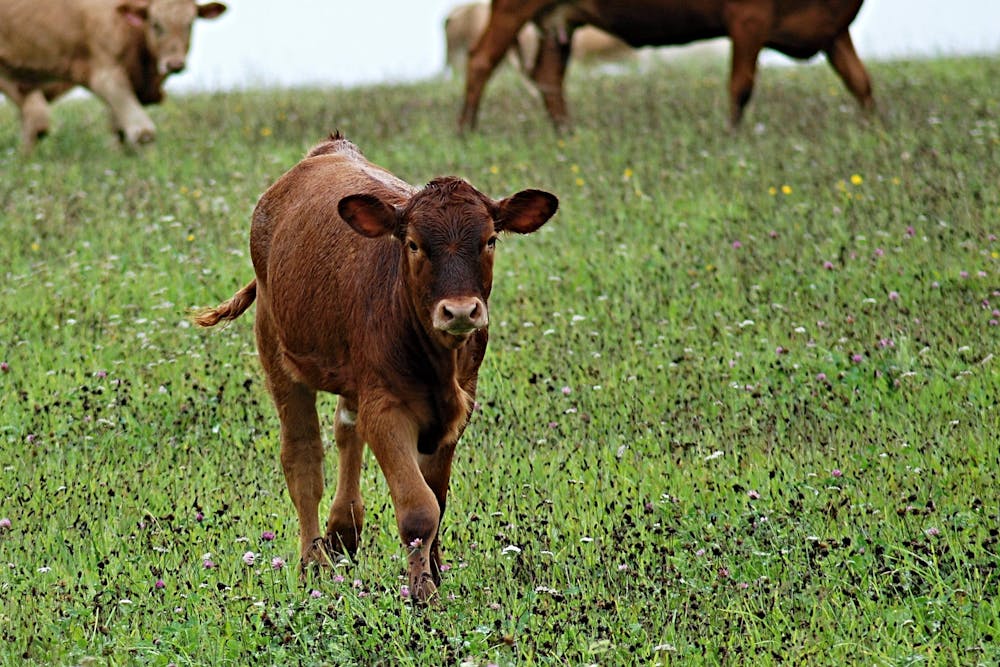 They start with naturally inseminated Angus cows. For the most part, the cows are grass fed on the farm with pasture grass and hay in the winter. In the winter, they also graze on a mix of cold-hardy crops. Moore Brothers beef is non-GMO certified, meaning no genetically modified feed is given to their cows. And, no antibiotics and no hormones are used.
"The cows are raised in an all-natural environment," Eddie Moore said. "It's a whole life process. We watch the animals throughout their life cycle, and they must meet our standards."
While most cows are sold and transported several times before they are "finished" in huge feedlots, a Moore Brothers' cow takes only one trip. That is to a slaughterhouse in Gibsonville, N.C.
"Stress is another factor," he said. "Our cows are born here and stay on our farm as they grow. Marbling of our beef comes from this growth process."
The differences between Moore Brothers and commercial beef does not end there. Commercial beef goes to the grocery store as quickly as possible after slaughter. Moore Brothers beef is dry aged for 10 to 12 days to increase the tenderness and flavor.
"Our beef loses weight (and money) while it's hanging," Moore said. "You'll notice there is little fluid in our packages. It's worth the wait."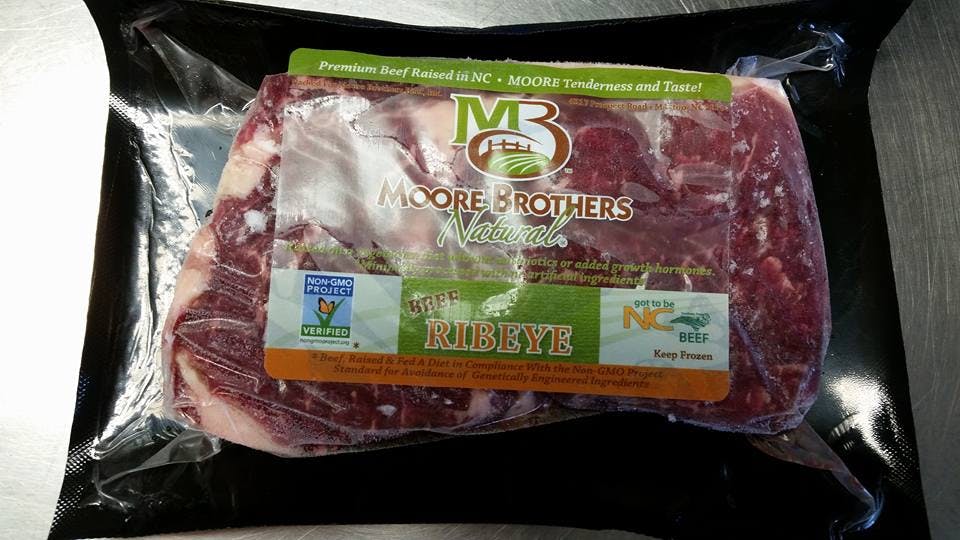 Jerry Warwick, owner of Carolina Surf and Turf in Lumberton, agrees that all-natural beef is worth the wait.
"It's top of the line, local and all natural," said the veteran butcher.
"I heard about Moore Brothers from customers when I was working at Lowe's Foods," Warwick said. "They know beef, and I hope to expand my count of their product in the new year. They are good people to work with."
Warwick said he would like to see a local restaurant offer Moore Brothers beef.
"I'm talking about a hamburger you can't get anywhere else," Warwick said.
Farming of any kind is a challenge, but to switch from tobacco to beef requires a different set of skills. For instance, Moore Brothers must meet demand throughout the year. Then, there is marketing. Tobacco went to the warehouse floor, and there was always a buyer to "turn the tag." Premium beef is a select market that must be worked.
"We're not just farmers any more," Eddie Moore said. "It's about telling our story. We're looking for buyers who want the best, and our challenge is to find them."
Some restaurants have bought into the Moore Brothers story and flavor, including Elliott's on Linden in Pinehurst, The Sly Fox in Southern Pines, 18 Seaboard and Cantina 18 in Raleigh. Retailers of Moore Brothers beef include Harmony Farms, which retails the product at its store and at the North Carolina Farmers Market in Raleigh; Nature's Own in Southern Pines; Tidal Creek Cooperative Food Market, Lovey's Market and Café in Wilmington and Bay Naturals in Myrtle Beach, S.C.
So, from "the middle of nowhere" comes a great product that fits growing farm-to-table tastes for natural food grown locally. Looking over his herd, Eddie Moore is optimistic about the future of his growing family enterprise.
Moore Brothers putting tenderness and taste in beef.