Elliotts on Linden Serves Pinehurst on a Plate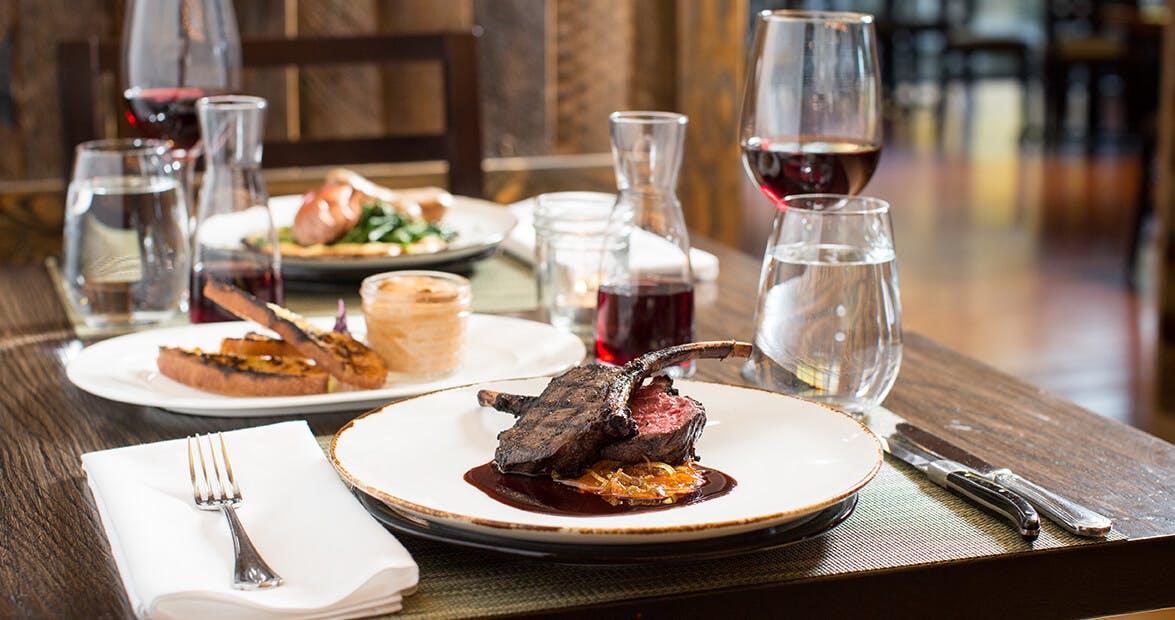 Get a sneak peek of the action in the kitchen with this throwback feature article written by Emma Laperrugue, originally published in Our State Magazine, March 2016.
Originally published March, 30 2016 in Our State Magazine by Emma Laperruque.
"Walking in!" Executive Chef Caine Lambert shouts. "Cheese, first course! Followed by soup, gnocchi, two calamari, second course! Followed by chopped salad — 86 blue! — two salmon, two fish, burger mid-well, third course!"
The kitchen choruses back: "Heard that!"
It's the start of dinner at Elliott's on Linden in Pinehurst. Four cooks are on the line, juggling 12 burners, a grill, a flattop, a fryer, and an oven. Their rubber clogs never stand still — rushing to a saucepan of chicken stock, a basket of calamari, a charred bun on the grill.
Lambert snatches up the last and smears it with house-made mayo, butter-yellow from Dijon and sherry vinegar. "For the burger," he says. "We source the beef from Brasstown." He sets three chunks of aged English Cheddar on the sizzling patty. All around, skillets clatter, plates rattle, the exhaust hood roars. Someone screams, "Hot! Behind! Hot! Hot!" A baking sheet of bite-size, Cheddar-chive biscuits appears, then disappears, one by one. It's busy in the kitchen, but not too busy for taste-testing.
Chef and owner Mark Elliott surveys the tickets, quickly. "This is pretty fast for a Monday night," he says with a smile before he whirls back to the stove.
• • •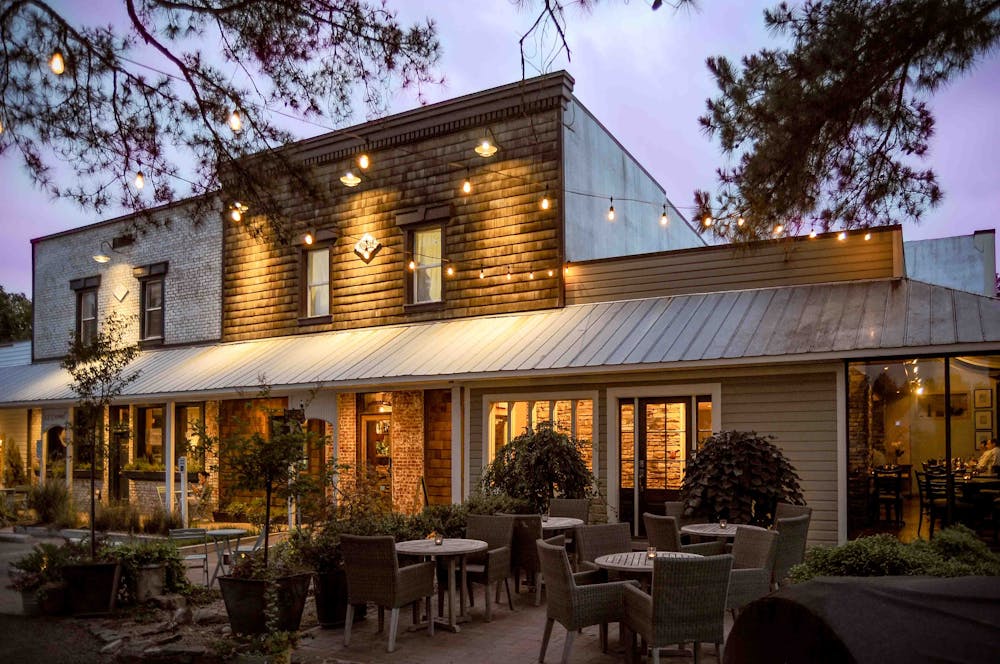 Chef Elliott was on his honeymoon when he asked his wife, Kelly, if they could open a restaurant. "We'll only do it once," he told her. "If we're successful, we're successful. And if we fail, I'll never do it again." She said yes, and in 2000, Elliott's on Linden opened in a portion of an 11,000-square-foot building, formerly the town's general store. Inside, the hallways wind and the floors slope, leading to lots of "watch your step!" and "how did we get back here?" moments.
The building also had a former life as a chicken-processing operation — hence the bordering road, Chicken Plant, and Elliott's entry-room nickname, The Roost, where locals flock for upscale "feed," from rabbit-pistachio sausage with Welsh rarebit-style grits, to Cheddar waffles with spicy fried shrimp and zucchini pickles. The bold menu rotates regularly, though the cedar plank salmon, lacquered with a chipotle-Jack Daniels glaze, has remained a special since the very start. As it should. The triple-cooked fries, too, should not be missed, or shared.
The building also houses Elliott's Provisions Company, where you can buy culinary gadgets and gourmet ingredients (count on British specialties like bangers and clotted cream); Hollyhocks Art Gallery, which also serves as a private dining space for the restaurant; and a kitchen design store.
Over the years, Elliott's has added 25 seats, a garden, a bar, a wine room, and a demonstration table. The last enables classes on everything from mixology to butchery; the restaurant hosts up to 40 of these educational events each year. A recurring favorite is Swine and Suds — whole pig fabrication, loads of beer.
Elliott has lots of ideas for the future: a coffee shop, a patio, a new catering kitchen, and a meat locker, for from-scratch charcuterie. Considering the prosciutto casually hanging in the wine room and the textbook-perfect coppa di testa from Lambert, it seems inevitable.
• • •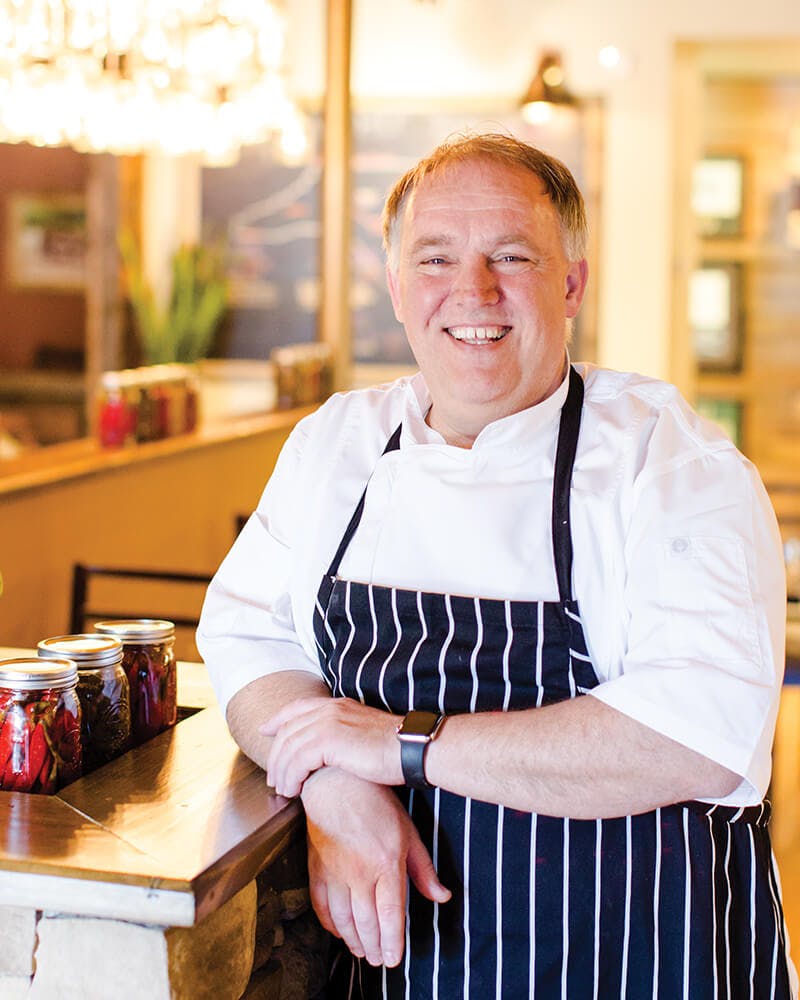 Born in England, Elliott cooked in Germany, France, and on a boat traveling around the Mediterranean before he settled in Pinehurst. After arriving in the little golf village, he thought, "What am I going to do here?"
Turns out: a lot. Take the Elliotts out of the equation and Pinehurst would be a different place. Each year, they give back — to the Sandhills Community College, to the Children's Center, and to the high school band, to which they annually donate 80 pounds of brisket.
"People say, 'You do it for marketing!' But that's not what it's about," says Kelly, who handles the restaurant's advertising, finances, and social media. "We've always put good karma out there, and it comes right back."
Indeed, the Elliotts' success spans beyond Linden Road. In 2010, they opened The Sly Fox, a traditional English gastropub. And in 2015, The Roast Office, a coffee shop in a historic post office (don't miss the colossal, brown-butter chocolate chip cookies).
Yet even with all of the renovations and expansions, the original outpost is still the beating heart, where the passionate staff talks about "Chef" less like a boss and more like a mentor — even a father — who cares as much about 401(k)s as he does about mise en place.
"He's always teaching us, in all aspects," says Morgan Hawk, director of Elliott's Catering Company. "Not just the restaurant, but life."
For Elliott, the two seem to be one and the same.
• • •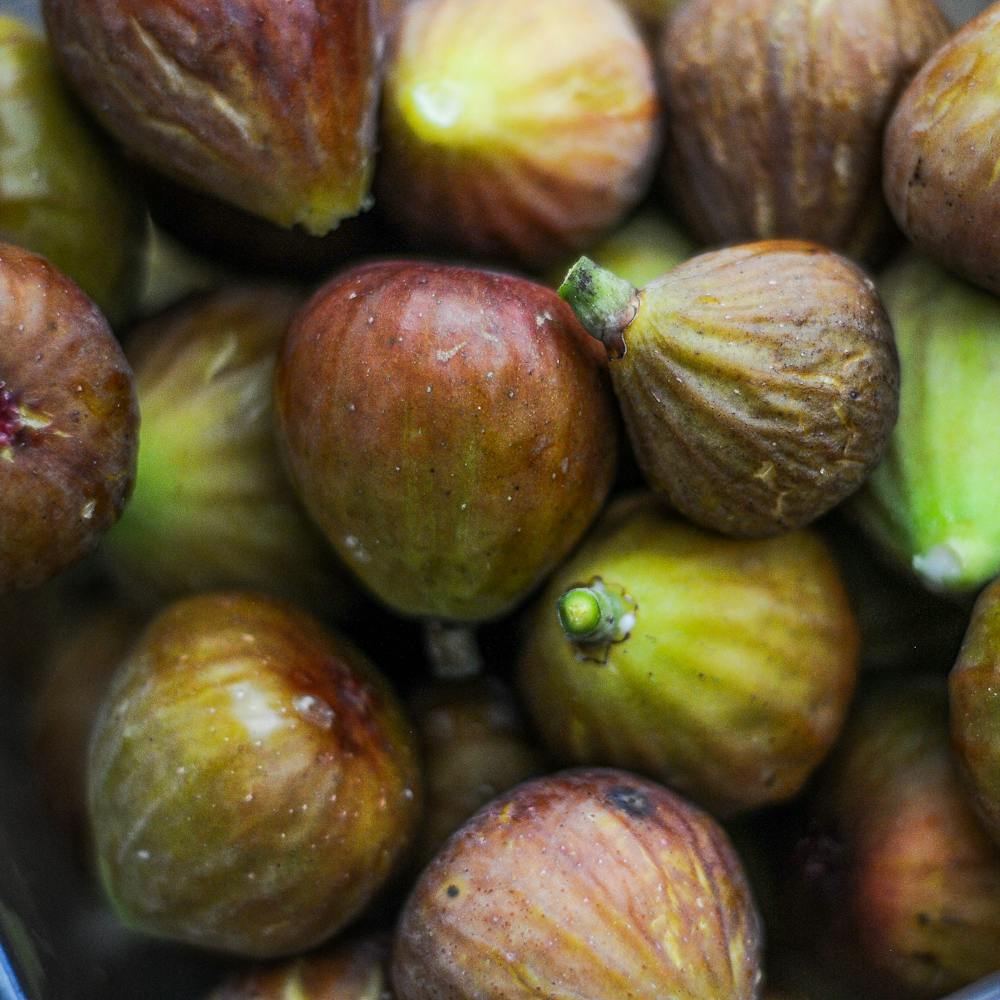 Chef Elliott has a cappuccino in hand as he walks from The Roost to the kitchen to the garden out back, the scent of baking focaccia trailing after him. Outside, the sky is cloudy and gray.
He built the garden's first six beds himself in 2012; since then, his "great experiment" has blossomed into a significant, year-round produce source for the restaurant. When Elliott's on Linden opened, local wasn't the buzzword it is today, and sourcing from nearby farmers wasn't easy. So the Elliotts bought a refrigerated truck to travel around the state and procure ingredients they truly cared about, like dairy from Maple View Farm in Hillsborough.
Elliott checks in with the lettuce, tugs a mustard-colored carrot out of the ground, then heads for the beehives. The bees buzz busily, working on honey destined for a cheese plate, served on a North Carolina-shaped cutting board.
As Elliott heads inside, a line cook scurries out with a bin and a pair of scissors. "Gotta get it before the rain, Chef!" he calls out, running toward the chives.
By the time the sky opens up, the chives will be safe inside. And by the time the dinner orders begin pouring in, they will be chopped and kneaded into dough, to become fluffy clouds, floating through the kitchen's chaos.
Chef Lambert will holler, "Walking in!" The oven timer will ring. Someone will scream, "Hot behind!" and a baking sheet will clatter onto the counter. It will sit unnoticed, for a moment. But soon, the line cooks and servers and dishwashers will pass by and pause. They will grab a biscuit, or two, take a bite, and everything, for a second, will fall silent.